Middle Country Public Library in Centereach
You are invited to attend Radio Central Amateur Radio Club's February meeting on Wednesday February 26 at 6:30 PM at the Middle Country Library in Centereach
This month we will be trying something brand new: Our guest speaker, Rich Moseson, W2VU, will be appearing live via Skype at the Middle Country Public Library. Rich will be presenting his perspective on the future of Amateur Radio.
Rich Moseson, W2VU, is Editor of CQ magazine and Editorial Director of CQ Communications. A veteran journalist, he has worked in the past at CBS News, the Associated Press and various radio stations, was CQ magazine's 50th anniversary coordinator in 1995 and founding editor of CQ VHF magazine before taking the helm at CQ in 1999. A ham since 1970, Rich holds an Extra-Class license and likes to 'dabble' in all aspects of amateur radio. His current interests are in building QRP gear and using it in the field.
Radio Central Amateur Radio Club meetings are open to non-members as well as members. Anyone interested in Amateur Radio or wireless history is welcome to attend.
Our 2013 General Meetings will be at the Middle Country Public Library in Centereach. You can get directions to the Middle Country Public Library here.
Radio Central Day Sunday November 3, 2013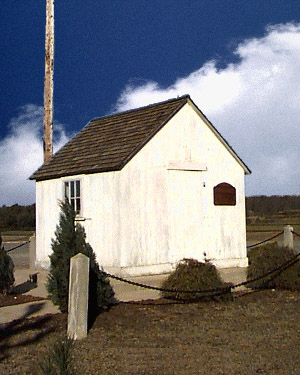 On November 3, we celebrated the 92nd anniversary of the activation of the RCA Radio Central Rocky Point transmitter facility in 1921 with our annual "Radio Central Day" special event at the Marconi Shack in Rocky Point, operating as W2RC.
We ran two stations - a Kenwood TS450S into an R7 vertical and a Yaesu FT897 into a G5RV - with a goal of making at least 50 contacts on CW and SSB combined. The November Sweepstakes CW operators were wall to wall but they stayed out of the 40 meter Novice band (7100 to around 7120 kHz) so we were able to make some nice, laid back contacts with some of the SKCC guys on 7114. We has some nice band openings on 15 and 20 meters as well. At the end of the day, we logged 71 QSOs, 18 on CW and 53 on SSB. All told, we worked 18 states and 12 DCXX countries.
The 47 operators we contacted who had valid e-mail addresses posted on QRZ.com have already received certificates via e-mail. If you worked us and would like to receive a certificate, but don't have your email address posted on qrz.com, you can drop us a line at

with your email address and we'll get a certificate out to you via email.
QSL Information:

Send sase to:

Radio Central Amateur Radio Club, W2RC

PO Box 396

Centereach, NY 11720

Ham Radio and Distracted Driving
In light of increasingly strict "Distracted Driving" laws, our ARRL Hudson Division Director contacted the New York State Department of Motor Vehicles to get their position on operation of mobile Amateur Radio equipment with respect to Distracted Driving laws. The DMV responded with a letter of opinion that appears to be very favorable to Amateur Radio. Basically is says that talking via ham radio does not constitute a violation of the Distracted Driving laws. It should be noted that though the DMV's letter (which can be downloaded from the Hudson Division web page here, of or from the RCARC web page here) is pro-Amateur Radio, it's an opinion from the DMV, not a binding agreement, so it's still possible to get pulled over, cited, and required to appear in court. More importantly, you should always give the road and traffic absolute priority over operating your radio while driving. In Mike Lisenco's own words: "Feel free to print out this opinion, but understand that it is not a license to be stupid! Letís hope that you never need to use it."

Online Renewal is Working Again!

Our capability to renew membership via Pay Pal has been restored. Go here for details.