Middle Country Public Library in Centereach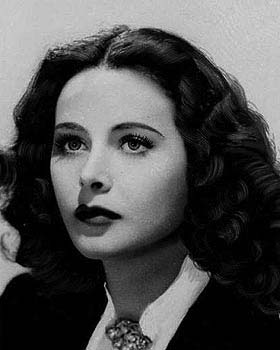 Actress Hedy Lamarr co-patented frequency hopping with piano composer George Antheil in 1942. Their system used a player piano roll to change between 88 frequencies to make radio-guided torpedoes harder to detect and jam.
You are invited to attend Radio Central Amateur Radio Club's April meeting on Wednesday April 24 at 6:30 PM at the Middle Country Library in Centereach.
Our April meeting topic is Spread Spectrum communications. Our guest speaker will be Bill Bock, a senior applications Engineer at Rohde and Schwartz. Spread spectrum was originally conceived by film star Hedy Lamarr during the World War II era to provide secure communications for the Allies. Today Spread Spectrum is used in a broad array of military and commercial applications. Join us at the April meeting to learn more about this fascinating topic.
Radio Central Amateur Radio Club meetings are open to non-members as well as members. Anyone interested in Amateur Radio or wireless history is welcome to attend.
Our 2013 General Meetings will be at the Middle Country Public Library in Centereach. You can get directions to the Middle Country Public Library here.

Build-It Night 2013
We talked a few ideas for a club kit build for 2013 at the January meeting. Pictured above is a neat little 40 meter 5-watt CW transmitter, available for $32.00, that has all of the inductors built into the PC board.
Here
is a list of other candidate kits that we compiled in 2012. Of course, we are not limited to this list. It's just a stating point for ideas. If you have other suggestions please drop me a line at
.
Radio Central Tuesday Night Weekly Rag Chew Net

Radio Central Amateur Radio Club hosts a weekly club information and rag chew net that meets Tuesday nights at 8:00 PM on the Radio Central Amateur Radio Club repeater. The purpose of the net is to further the general knowledge of the local ham community, to bring local hams together through the use of the Radio Central club repeater, and to talk about any subject that is of interest to the group. All licensed hams, club members and non members alike, are welcome to check in and join the group.

Radio Central Tour of Old RCA Grounds Saturday March 14
We had a turnout of five hearty Radio Central members for an enjoyable club outing touring the old RCA property in Rocky Point. Dick, K2RFP, was our tour guide. Weather was ideal and everyone survived the six mile hike nicely. We took a bunch of photos and plan to create a presentation for a future club meeting. Here are a couple of photos we took Saturday.
Remnants of an old boiler room. Photo by KA2JAK.
One of the original wooden towers. Photo by AB2UW.
Farm of old porcelain insulators. Photo by K2RFP.
Left to right: Neil, KC2KY, Richie, KB2ZPB, Dick, K2RFP, Bill, AB2UW, and Rocky, KA2JAK. Photo by KC2KY.

Radio Active Award Program
Make QSOs during the month and qualify for the award More...
(C) Copyright 1995-2008 Radio Central Amateur Radio Club.
All subsequent RCARC pages are copyright 1995- 2008 Radio Central Amateur Radio Club.