Middle Country Public Library in Centereach
You are invited to attend Radio Central Amateur Radio Club's February meeting on Wednesday February 22 at 6:30 PM at the Middle Country Public Library in Centereach.
Our February meeting will be a Chinese Auction. We're looking for donated items from members to make the auction more interesting. I'm not asking you to donate things of significant value. Maybe there's a trinket taking up space in your junk box that's just a teeny bit too nice to go out to the curb. If you have something you are willing to part with, bring it to the meeting.
Members who are up to date with their 2017 dues (including those who bring their 2017 dues the day of the meeting) will each get 5 tickets to start with, and can purchase additional tickets if they want to. Non members can purchase tickets as well. For each donated prize that you are interested in winning, you enter as many of your tickets as you wish towards that prize. You can spread your tickets around or put them all in one basket, whatever you prefer to do.
We will then have drawings for each item until all of the prizes are given away.
I think this will be a fun meeting for everyone. I hope to see you there.
Our 2016 General Meetings will be at the Middle Country Public Library in Centereach. You can get directions to the Middle Country Public Library here.

N2T Special Event Station
Radio Central Celebrates Tesla's 160th Birthday on July 10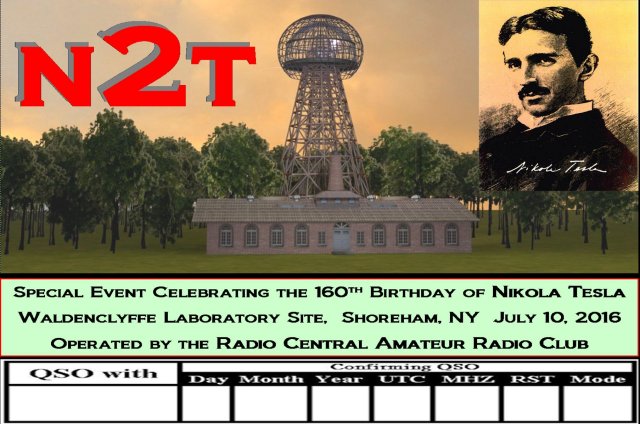 On Sunday July 10, 2016, Radio Central Amateur Radio Club participated in the Tesla Science Centerís celebration of Nikola Teslaís 160th birthday. We operated Amateur Radio Station N2T (November Two Tango), contacting about 90 stations from as far as Spain and as nearby as local neighborhood hams in Shoreham. Our objective was to have fun and to celebrate not only Teslaís birthday but also the tireless efforts of the Tesla Science Centerís leadership and volunteers, rescuing Wardenclyffe from developers and working towards the eventual creation of a Tesla science museum on Long Island.

Ham Radio and Distracted Driving
In light of increasingly strict "Distracted Driving" laws, our ARRL Hudson Division Director contacted the New York State Department of Motor Vehicles to get their position on operation of mobile Amateur Radio equipment with respect to Distracted Driving laws. The DMV responded with a letter of opinion that appears to be very favorable to Amateur Radio. Basically is says that talking via ham radio does not constitute a violation of the Distracted Driving laws. It should be noted that though the DMV's letter (which can be downloaded from the Hudson Division web page here, of or from the RCARC web page here) is pro-Amateur Radio, it's an opinion from the DMV, not a binding agreement, so it's still possible to get pulled over, cited, and required to appear in court. More importantly, you should always give the road and traffic absolute priority over operating your radio while driving. In Mike Lisenco's own words: "Feel free to print out this opinion, but understand that it is not a license to be stupid! Letís hope that you never need to use it."

(C) Copyright 1995-2008 Radio Central Amateur Radio Club.
All subsequent RCARC pages are copyright 1995- 2008 Radio Central Amateur Radio Club.